Ambassador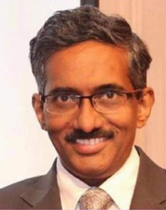 Shri Suresh Reddy
Ambassador
Ambassador Ramu Abbagani Embassy of India, Santo Domingo Dominican Republic, Also accredited to the Republic of Haiti,
Spouse: Mrs.Pushpa Abbagani.
Email: amb[dot]santodomingo[at]mea[dot]gov[dot]in
He also established and headed the first ASEAN Multilateral Economic Relations Division and in that capacity was instrumental in establishing the BIMSTEC Secretariat, while also looking after ASEM, ACD & APEC related issues.
Amb Reddy headed the Multilateral Economic Relations Division in the Ministry of External Affairs from December 2018 to January 2020 and was India's Sous Sherpa to G20, G7, BRICS & IBSA.
Since January 2020, deputed as Additional Secretary (Europe), Amb Reddy was coordinating India's engagement with Europe and Central Asia.